Guess what, y'all?!?
Susan James' upcoming book "The MICROGREENS Growing Guide" is almost ready to be sent to the publishers!
As part of an exclusive offer available only to readers of GrowingMicrogreensIndoors.com, you can get your own .PDF version of the book for free!


---
It's Time for New Year's Resolutions!!
Are you ready to start a new healthy hobby in 2022?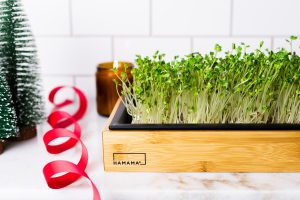 With 2022 now here, it's the perfect time to start fresh, reflect on your goals and choose new healthy habits. Are you ready for a deliciously healthy fresh start in the new year?
A microgreens growing kit is a wonderful way to get started growing delicious, nutritious superfood right on your own kitchen counter. Kits also make wonderful gifts for the chef,  gardener or health nut in your life… Read more