With 2023 now here, it's the perfect time to start fresh, reflect on your goals and choose new healthy habits. Are you ready for a deliciously healthy fresh start in the new year?
A microgreens growing kit is a wonderful way to get started growing delicious, nutrition superfood right on your own kitchen counter. Kits also make wonderful gifts for the chef,  gardener or health nut in your life. A kit provides everything needed to get started and serves as a launchpad to success in this healthy, fun hobby. [Suggested read: "Microgreens Growing Kits – PROs and CONs"]
But, with all of the supply chain issues, can you order a microgreens kit online and feel confident that it's not going to get stuck on a container ship out in the Ocean somewhere?
Yes, you can. And I'll make it easy for you.
Here are the Top 5 Microgreen Growing Kits that are **made and shipped in the USA**
The #1 Winner…
Self-Watering Microgreens Kit (Hydroponic) – available from True Leaf Market ~$32
This microgreens growing kit offers a great balance between the learning the process of growing microgreens and a reasonable chance of first-try success. It includes two re-usable, self-watering microgreens trays (additional trays can be purchased separately,) enough hydroponic growing medium for six crops, a mini mist sprayer, and six packets of seeds (Rambo Radish, Basic Salad Mix, Spicy Salad Mix, Broccoli, Red Tatsoi andChina Rose Radish.)
The instructions are printed on the bottom of the box that the kit comes in, so make sure you snap a picture before you recycle the box.
Why I Like It: One of the biggest hurdles to overcome when starting out growing microgreens is getting the watering right. Too much or too little and the whole crop can be lost. The self-watering wicking system this kit offers takes the challenge of watering out of the equation.
How It Could Be Improved: This kit is available in both a hydroponics version and a soil-based version. However, there is a considerable skill gap between the seed varieties included in the soil version of this kit and the one included in the hydroponic version. [Suggested read: "The EASIEST Microgreens To GROW"] Both kits are available together as a combo, for those who want to experiment with both methods, but for a gift, I recommend the hydroponic version.
---
#2 – HAMAMA – The Absolute Easiest Microgreen Kit!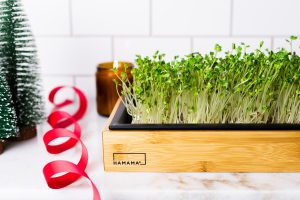 Microgreens Starter Kit – available from Hamama ~$35-49
This kit is focused on the end product – delicious, fresh, edible microgreens, not on the process of cultivating them. Biodegradable, patented Seed Quilts® contain the seeds and the medium needed to grow them.
It is literally a "Just Add Water" growing process. You will not really learn how to grow microgreens with the Hamama kit, but you are almost certain to end up with your own fresh grown greens.
The kit comes with a reusable grow tray, easy growing instructions and 3 seed quilts, available from a choice of 10 varieties (Broccoli, Cabbage, Kale, Daikon Radish, Wasabi Mustard, Wheatgrass, Clover, Fenugreek, Spicy Salad Mix and Zesty Mix.)
Additional seed quilts are available on a monthly subscription basis or as one-time purchases. A sizable discount is offered on the planter itself if you select a monthly seed quilt subscription at the time of purchase.
Why I Like it: Super easy. Almost 100% certainty of favorable results. If I was growing microgreens at home with kids, or for a classroom experiment, or in an office setting, this is the one I'd get. Seed quilts are biodegradable, so after harvest the used quilt and remaining root mat go right in the compost bin.
How It Could Be Improved: Because the seeds are embedded in the seed quilt, there is virtually zero possibility of transplanting any of the microgreens to grow out to more mature plants, but like I said before, this kit is really just about getting microgreens.
Take 23% off your purchase and give yourself the gift of health!  Use code:  GLOW23. Offer expires January 31, 2023.
Also, Hamama does offer the option to include a Gift Note as well as Gift Wrapping, so if you're getting this as a gift, you can have your gift shipped directly to your recipient. Also, all gifts ship FREE!

---
#3 The "Toe In The Water" Kit
Barnwood Planter Microgreens Kit – available from True Leaf Market ~$41
I'll be honest. Most of what you're paying for here is the planter. But it is attractive, sturdy and comes in a choice of two finishes. It contains only one variety of seed – radish – but radish microgreens are one of my top favorites (it's a must-have for tacos) and also one of the fastest and easiest micros to grow.
Why I Like it: This is an attractive, yet no-nonsense kit that includes everything you need to grow healthy radish microgreens.
How It Could Be Improved: Not everyone loves radish microgreens as much as me. (They are somewhat spicy.) A choice between radish and broccoli would have been nice.
---
#4 The "Deep Dive" Kit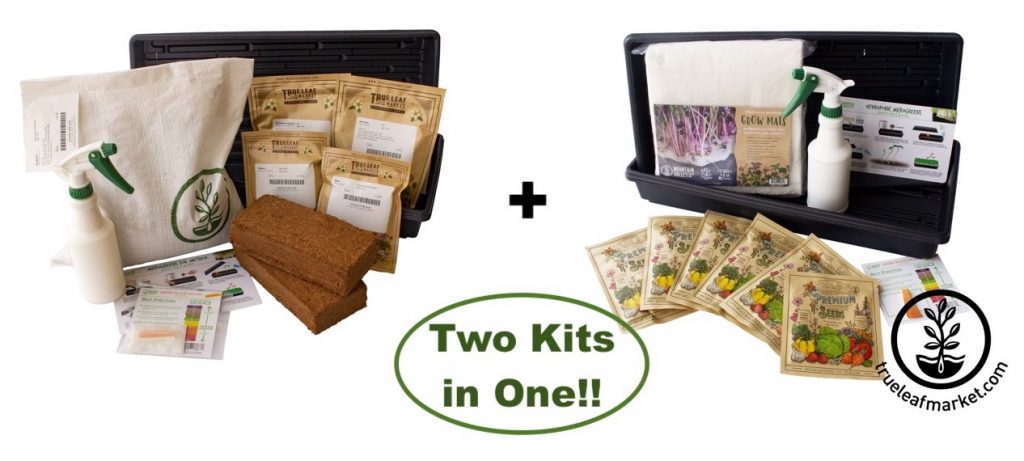 Deluxe Microgreens Starter Kit – available from True Leaf Market ~$133
This is the ultimate kit for someone wanting to take the deep dive into the microgreens growing hobby. It is actually two kits in one: The Hydroponics Microgreens Starter Kit and The Soil-Based Microgreens Starter Kit
Why I Like It: This deluxe kit gives a broad-spectrum opportunity to grow microgreens like the pros. Enough trays are provided to grow five crops at once, and 12 different seed varieties are included. It even has a pH Test Strip Kit to check the pH levels of your water.
How It Could Be Improved: Some of the seed varieties included fall into the "Medium" category of difficulty level. Being that this is a starter kit, some people could run into frustration and/or discouragement if they run into difficulty on one of their first grows. [Suggested read: "The EASIEST Microgreens To Grow"]
---
#5 The "Pros Only" Kit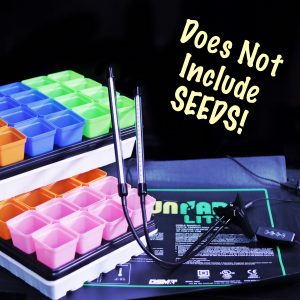 Small Batch Seed Starter Kit – available from Bootstrap Farmer ~$138
The folks over at Bootstrap Farmer have put together everything a grower needs to propagate seedlings indoors in one convenient kit. Well, almost everything.
This kit includes a 20″ x 20″ heat mat and a 40W LED grow light with clamp, 4 full-size 1020 trays (2 with holes and 2 without holes, so called because they are 10″ x 20″,) as well as colored pots and cell inserts for growing transplantable plants.
The kit does not contain SEEDS.
Why I Like It: This was the only kit I could find that contained both a heat mat (which greatly reduces germination time) and a small LED grow light, eliminating the need for growing near a window. [Suggested read: "The Best Grow Lights for Microgreens"] It also contains the pots and cell inserts that are necessary to grow out plants beyond the microgreen stage.
How It Could Be Improved: This kit is not for beginners. It contains neither instructions nor seeds. But for a gardener with a little bit of experience (and some seeds,) this ability to start propagating indoors will take their gardening to a whole 'nother level.
Bootstrap Farmer offers free shipping on orders over $49. Most orders leave their Texas facility in 1-2 days are are shipped via the cheapest ground option (either UPS, FedEx or USPS.) Expedited shipping is available for additional cost.
---
BONUS!! The Mini Kit
Mini Microgreens Growing Kit (Organic) – available from True Leaf Market ~$7
Under-$10-Gifts for the cook / gardener / health nut that may have never tried (or in some cases even heard of) microgreens. A great way to get a taste for microgreens and a feel for the growing process.
Choose from Radish, Arugula, Sunflower, Red Streaks Mizuna Mustard, Pea Shoots and Salad Mix.
**Are there any awesome microgreens growing kits that you know of that I left out? Have any personal experience with any of these kits? Please let me know in the Comments section below. 🙂 **