It's Winter. It's cold. There's snow and ice on the ground. But I want to grow vegetables, and I want to grow them now!
So, what are the best vegetables to grow in Winter?
Well, there are some varieties that are able to be grown into and through the winter if you are in a mild climate. Kale and Cabbage are some of the most successful. But for those of us who are in the cold temperate zones, encountering sub-zero temperatures every year, "winter vegetables" are the ones that are harvested in the autumn and keep well over the winter in a root cellar or basement (like Pumpkins, Potatoes and Parsnips.)
The only way to actually grow vegetables during the Winter in these climates is to grow them indoors. And there's no better option than microgreens. An indoor micro-farm allows you to truly be a four season gardener, making microgreens, in my opinion, the very best vegetables to grow in Winter.
In Spite of the Weather
Of course, Winter is not the only time that weather can be a threat to crops. Some of the most agriculturally damaging weather occurs in the Spring, when outdoor-grown plants are young and tender, particularly vulnerable to a sudden cold snap, or hail-producing thunderstorm. But regardless of rain, snow, sleet or hail – or even the sunny clear skies that precede those sub-zero nights – microgreens will just happily keep growing on your kitchen counter, or windowsill, or other small space, provided you keep them watered and supplied with sufficient light.
Of course, bad weather doesn't just affect plants. I for one do not get particularly excited about outdoor chores – gardening or otherwise – when it is cold, wet or windy outside. I don't like dealing with the "mud" that gets all over my boots (my father used to call it "mud, except it isn't mud,") and as much as I love sunshine, those cold, sunny Winter days will chap my face within just a few minutes. There have been many times that I have been guilty of putting off garden chores due to the weather, unfortunately only to make more work for myself later on when I do eventually get to them.
With indoor growing, none of these things are a concern. There's only two primary weather factors I have to keep in mind for my baby plants: On sub-zero nights, I have to protect anything that is growing right in front of the window. Even with energy-efficient double-paned windows, I have still awoken to frost on the inside of the window when we have had an extreme cold spell. The other issue is humidity, or rather a lack thereof. Indoor air can become very dry during the Winter months when the furnace is being run to heat the home. Tiny plants can dry out quickly. It's an easy fix though. Either use a self-watering system, or check and mist twice a day instead of just once.
Combat Seasonal Illness
DISCLAIMER: I am not a doctor. This article is for information only and should not be construed as medical advice.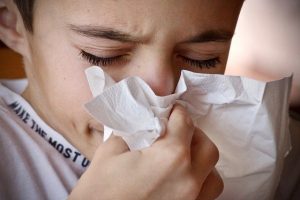 Microgreens have enormous health benefits. During this time of year when viruses seem to be on a rampage, and our immune systems are under constant stress, microgreens are a great weapon in our health-maintenance arsenal. With nutrients that are on average 5 times more abundant than in their mature-plant counterparts, (and in some case 40 times more abundant) microgreens are an excellent source of vitamins, minerals, polyphenols and other health-promoting compounds.
The most pro-active things you can do to keep yourself healthy during cold and flu season is to wash your hands, get plenty of fresh air and feed your body fresh, living cells in the form of plant-based foods.
Combat Seasonal Depression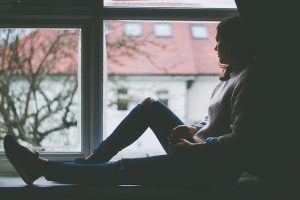 There is a reason that many cultures, going back to ancient times, have traditions of bringing evergreens and ivy indoors during the Winter months. The "Winter blues" are a real thing – in extreme cases even presenting as a clinical disorder (Seasonal Affective Disorder.) If you haven't seen a blue sky in over a month, and everything is gloomy and cold, a bit of fresh greenery can be a lovely boost to the ambiance of your indoor space. But why settle for DEAD evergreens when you can have fresh, LIVING plants bursting forth with nutrients that also nourish your brain?
In addition to giving you a rewarding hobby and an empowering connection to your food, the concentrated nutrients in microgreens are specifically, according to Dr. Drew Ramsey (clinical professor of Psychiatry at Columbia University,) some of the most-needed for a healthy brain. Adding these powerful antioxidants and vitamins into our diet gives the brain a chance to heal – resulting in a healthier brain and consequently, better mental health.
Get a Headstart on Spring Garden Planting
Microgreens are plant seedlings, usually harvested for eating when they are at the cotyledon stage, the stage when they are just starting to put out their first set of "true" leaves. Bur you don't have to harvest *all* of them then. Select a few of your favorite varieties and transplant the seedlings into their own containers (I like the 4″ square ones – the ones that fit 18 to a seed tray) to keep them going until it's safe to transplant them outdoors into your garden. (Check the "last frost" date for your geographical region.)
I live in a cold climate – USDA hardiness zone 5A. The "last frost" date for us is not until June 1st. Last year we had our first snowfall on September 28. Such a short growing season means that there are certain plants that cannot be grown here unless they are started indoors earlier in the Spring.
When I was growing up, there was a candy commercial whose jingle went, "Eat some now, save some for later…" Well, now microgreens are my candy. A tray of sunflower microgreens can not only give me a sweet, crunchy addition to my salad now, but also a headstart to those big, beautiful flowers in the summer and a harvest of yummy seeds in the fall! And with cold hardy varieties like Kale and Cabbage (as well as other members of the Brassica family,) I don't even have to wait until the last frost! (But I should keep a close eye on the weather – those baby plants can be so fragile.)
Year-Round Microgreens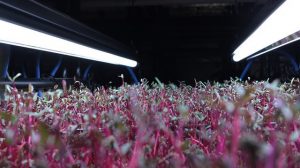 People who live in mild climates, where the temperature rarely drops below freezing, do have a variety of options for vegetables to grow in Winter. But for those of us who live in the cold regions, indoor growing is the only option. Microgreens, with their quick growing time and small space requirements, give a return in terms of taste and nutrition that is unparalleled by anything else. They are the best vegetables to grow in winter and year-round!
***Do you have a favorite Winter vegetable? Or a cool hack for growing vegetables in Winter? Please share in the Comments below.***